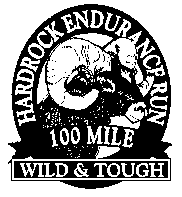 Hardrock Hundred Mile Endurance Run
July 8-9, 1994

A run report by Blake P. Wood, bwood@lanl.gov
Want more recent info about the Hardrock Hundred? Visit the Hardrock Hundred web page
My Running Page - more ultrarunning info.
The account below is for the first of eight times (so far) I've run Hardrock. Here are some other run reports - with much better photos than the ones below:
Hardrock Hundred - 1999 photos
Hardrock Hundred - 1999 run report
Hardrock Hundred - 1997 photos
Hardrock Hundred - 1996 photos
Nolans 14 (a run over a bunch of 14ers in Colorado) - 1999 run report and photos
Barkley Marathons - run reports, photos, and advice
My 1998 five-day run of the 225 mile John Muir Trail
Pueblo Nuevo 100 miler - 1996 run report
Massanutten Mountain Trails 100 miler - 1995 run report
Badwater to Whitney cross country run in 2002 - Photos, a short report, or a longer article that originally appeared in UltraRunning Magazine..

---
It was about 7am on the second day out, and Dave Scudder and I had finished the tough, but beautiful 4000', 3 mile cross-country descent from 14,048' Handies Peak into Cottonwood Canyon. My stomach was still suffering from the night's nausea, but I felt like my quads might even take a slow jog down the 2 mile dirt road into the Sherman aid station. Dave checked out the topo. "That's 67 miles." "Only 34 to go", I said, "Thank God we're almost finished!" I meant it too, and I guess that says something about what it's like to run the Hardrock 100. Despite the incredible, pre-dawn beauty of standing on top of Handies, with the brightening sky orange in the east and the craggy peaks of the Rockies stretching forever in every direction, this was probably my low point in the Hardrock. Sitting for an hour in the Sherman aid station, rocking back and forth as I alternately nodded off and snapped back, I let myself wonder, just for a minute, whether I was going to be able to finish. Finally, I got to my feet, gave Dave a thumbs up, and we hit the trail. From there on, I felt better with every step. I was lucky to have Dave with me as my pacer over that stretch, when things were difficult.
This was my first hundred. When I couldn't get into Leadville, (Hardrock Course Director) John Cappis suggested I try Hardrock instead. The first time I laid out the course on a topo map was a sobering experience - ten major passes pushing 13,000', an average course elevation over 11,000', and more than 65,000' of climb and descent! Largely on trails or cross-country, with most of the balance on 4WD roads. A whole week's worth of tough backpacking in a single run. The next day I mailed in my application.
Hardrock this year was blessed with exceptional conditions: no thunderstorms, not too hot or cold, low rivers, and little snow (which cuts both ways - we couldn't toboggan some steep scree slopes as they'd done in previous years). The field of runners was twice as large as 1993 - 73 stood on the lightly frosted starting line at 6am, Friday morning. Off right on time.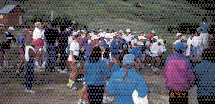 The start. (88KB gif)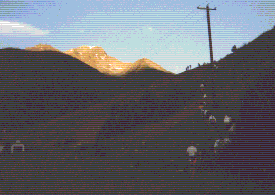 Leaving Silverton. (31KB gif)
I thought I might pace myself off John Cappis and Charlie Thorn (like John, another Los Alamosian, and Course Marking Director), but quickly lost sight of them over the flat mile to where the first 3300' climb started up Bear Creek. First we waded Mineral Creek. I took off my shoes, but noticed that no one else bothered. As we climbed above Bear Creek, I marveled at the wildflowers: orange, pink, red, and cream colored Indian Paintbrush, deep purple Larkspur, blue Lewis Flax, yellow buttercups, and higher up, blue and white Colorado Columbine. The marshy areas were covered with white Elkslip and pink Primroses. Fields of color! It was a truly amazing sight.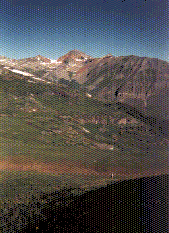 Looking down Porcupine Creek. (93KB gif)
Crossing a low divide at 12,600' I caught sight of a herd of 19 elk on the next ridge, before heading down Porcupine Creek toward the first aid station, at 12.2 miles at the base of the Kamm Traverse (about 10,500'). There I found my Dad (who would pace me later), Dave, and my wife (Rebecca) waiting for me. "Is it legal to accept aid in the form of kissing my wife!?" "Yes, but only within 400 yards of the aid station!" At this point I was 3:20 into the race, but it felt like no more than one hour. Long distance runner's time compression is a wonderful thing!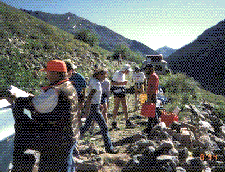 Kamm Traverse Aide Station. (116KB gif)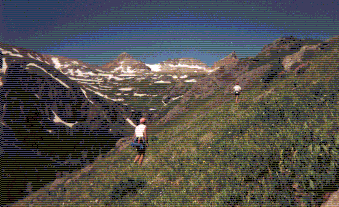 Climbing toward Grant-Swamp Pass. It's not steep yet! (85KB gif)
Crossing the Kamm Traverse (an old mining road, now only a trail, angling up across a steep, grassy slope), we headed down through a wooded area, crossed Ice Creek, and headed up cross-country toward 12,900' Grant-Swamp Pass, the final pitch of which was a steep scree slope. John Cappis' 15 page route description provides a good impression of the summit: "Take a deep breath, and look down...." Within 10' of where I stood the ground keeled over out of sight, with the next visible surface being several hundred feet vertically below. "Where do I go?" "Right over there!" said someone, pointing to a course marker on the edge of the abyss. As I began picking my way carefully down, I heard another runner just reaching the pass mutter "Holy Shit!" Although VERY steep, there was a chute of loose scree that you could bound and slide down at an exhilarating speed. After emptying the rocks out of my shoes at the bottom, a small group of us headed down a rocky trail toward the next aid station at Chapman Gulch (19.0 miles, 10,500'), just up from Ophir.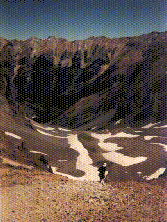 Looking over the edge at Grant-Swamp Pass. Now it's steep! In the distance is Oscar's Pass. (105KB gif)
Chapman Gulch was the first "full service" aid station, with crew access and drop bags. It was hot. Another Los Alamosian, Eric Haytcher, who was crewing for Cappis, took care of me there, forcing me to drink cup after cup of water and Exceed. "It's a long, hot climb up Oscar's Pass. You'll need it!" It was indeed just that - a steep, exposed, shadeless 4WD road which switchbacked 2600' up the south side of the canyon. Despite that, I felt pretty good (I kept thinking "At least I'm not carrying a backpack!"), and passed a number of people going up. About 2/3 of the way up I came upon John Cappis. "My stomach is trying to shut down on me, so I decided to sit here for a while and admire the view." Near the top I caught Randy Rhodes, with whom I'd run much of the next 20 miles.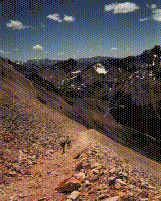 Looking back from Oscar's Pass toward Ophir Pass. (89KB gif)
From Oscar's pass, we crossed a couple snow slopes and began a descent through a series of green meadows and deep canyons, toward Telluride.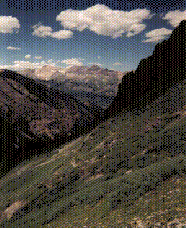 Down the Wasatch Trail toward Telluride. (88KB gif)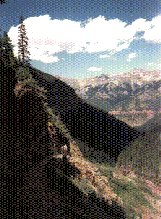 Further down the Wasatch Trail toward Telluride. (99KB gif)
This was Randy's third Hardrock (he ended up being one of five to have finished all three Hardrocks), so we had lots to talk about concerning hundreds in general, and Hardrock in particular. After we reached the good dirt road leading the final 2 miles into Telluride, we started seeing many day hikers heading up toward the waterfalls in Bear Creek Canyon. Earlier in the day, Randy had gotten off course and come upon a black bear. At one point a couple of people came onto the road from a side trail, accompanied by a large black dog. Randy gave a start, and mumbled something like "I thought your dog was a bear... I saw one when I was lost" to the people as we ran by. They just looked at us like we were from Mars. "They must have thought I was crazy", said Randy. I just laughed. "Look what you're doing! Isn't it obvious?!"
Dave and his two daughters met me at the Telluride aid station (28.1 miles, 8750'), which turned out to be in a narrow hall inside a house. It was chaos, with runners coming and going, crew trying to get to their runners, aid station workers trying to see what they could do for anyone, runners knocking cups of Exceed into each other's laps.... I wolfed down some soup, a sandwich, a banana, an orange, and headed out again. Dave walked with me through town to where the dirt road started, while I finished my orange. Telluride is in an incredibly beautiful, steep valley, although I heard more than one person mutter "This used to be a great town, before they built the ski area and all the movie stars moved in...."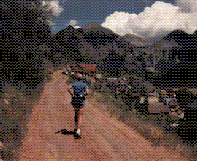 Leaving Telluride. (59KB gif)
The next climb, 4350' up to Virginus Pass, was probably the most uncomfortable of the run. Steep and hot, like Oscar's Pass, with lots of black flies swarming around your face, at least until you reached timberline and the breeze picked up. All of you in the bug-infested East will think I'm a wimp, but I didn't like the flies!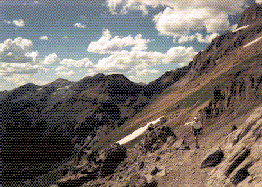 Randy Rhodes at Mendota Saddle. (116KB gif)
The approach to Virginus Pass is a traverse up from Mendota Saddle, ending in a steep scramble, above a high basin completely filled with equipment and tailings from old hardrock mines. In many places on this run, but particularly over Virginus Pass, there were beautiful old mining structures, some in quite good shape, some little more than a pile of lumber, their wood weathered a deep reddish brown. Amazing that someone could and would construct such mine so high up in these rugged mountains! The Hardrock 100 is named in honor of these tough miners who lived and worked in this difficult, beautiful landscape.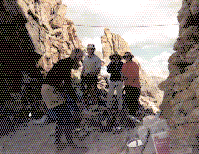 Kroger's aide station (all of it!). (81KB gif)
In the narrow notch on top of 13,100' Virginus Pass, Chuck Kroger of Telluride and a handful of others had set up a surprisingly well stocked aid station. They'd been up there all day when I arrived a bit after 4pm, melting snow for water, cooking soup, making sandwiches, and relaying information on the radio network back to Silverton. They'd even packed in folding chairs for the runners. What's more, they were staying until after the cutoff time (at that location) of 9:25pm, so they'd be packing all that stuff back down again in the pitch black. I was very impressed and grateful, but that kind of spirit was typical of the workers at all the aid stations!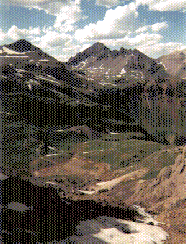 Looking down into Governor's Basin from Virginus Pass. (97KB gif)
The north side of Virginus Pass was a steep, soft snowslope. I used the fixed rope that had been rigged over the first hundred feet or so. Below that was a series of benches, alternately steep and gentle snow and scree. When we reached the 4WD road down into Governor's Basin, I paused to dump the rocks out of my shoes before continuing down to the aid station at the mouth of Yankee Boy Basin (36.6 miles, 10,800').
My feet had become completely soaked from the snow at Virginus Pass, and were beginning to hurt, so I thought I ought to have a look while I sipped my soup. Sure enough, ghastly white and wrinkled - like my kid's feet look when they've been in the tub too long. I had dry socks at Ouray, but that was still seven miles and a 3100' descent ahead. Oh well! I wrung my socks out as best I could, and started the long Camp Bird Road down to Ouray. By now the shadows were lengthening and the deep canyon bottom was in shadow, although the surrounding peaks still glowed in the evening light. Quite pleasant, although my feet and quads hurt, and there was an intermittent stream of rented 4WD vehicles which left clouds of dust as they passed.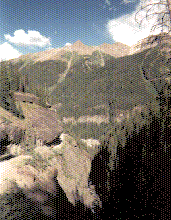 The Camp Bird road. Note the Jeeps. (109KB gif)
The road kept up a steady descent, but not as fast as the canyon. This left the road, in places spectacularly carved out of the cliff face, high above the stream below. Another runner caught up when I made a pit stop, and we picked our way down the final, very steep descent over the edge of the road and down into Ouray. Now, nearing the half-way point and far ahead of the cutoff times, we congratulated each other on our sure finishes, and on how a policy of eating and drinking everything in sight was bound to keep us well fueled and feeling good. A bit premature - it turned out that in a few hours I was quite sick to my stomach, and my friend dropped out at some point, for I never saw him again after Ouray.
We finally reached the Ouray Town Park (43.8 miles, 7700'), a major aid station and the lowest point on the course. There I found my Mom and Dad waiting for me. Dad would jump in here as a pacer for the next 15 miles (the person who signed us in commented on us having a 35 year old guy paced by a 63 year old. Wasn't that backwards?) Most everyone's crews were there, taking pictures and telling their runners how good they looked. Much to my surprise, there was Charlie Thorn! I'd been told at the last aid station that Charlie was about 90 minutes ahead of me, having already left Ouray, but the pace had taken it's toll, and Charlie had returned to Ouray, deciding that this would be a good place to drop out.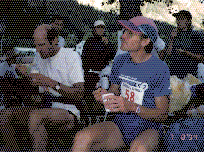 Randy Rhodes and me at Ouray. (73KB gif)
Dad and I hit the road in the gathering dusk at about 8pm, comfortably ahead of the 9:30pm I figured would yield a 36 hour finish. The route out of Ouray was tricky, and involved a river crossing, so Dad had scouted it out ahead of time in anticipation of having to do it at night. We were unable to run across the top of the dam, as was done in previous years, forcing a rocky scramble uphill around the dam and a nighttime (for most) ford through the murky water. I carried an extra pair of shoes for the ford (which turned out not to be so bad) and a day pack with the night's warm clothes, in addition to the runner's hip pack I'd had the whole way.
After crossing the highway, Dad and I started up the switchbacks of the Bear Creek National Recreation Trail. I felt very strong, and Dad and I soon agreed to split up, since Dad preferred a slower pace. This section of the trail was quite spectacular, being carved out of the near vertical cliff far above Bear Creek. As they said in the trail briefing, "If you get off the trail, you'll know it immediately." As it got darker, the canyon became a yawning gulf, more sensed than seen, and the river roaring far below seemed to grow louder. The trail was good enough that my flashlight was needed only occasionally. After a while the trail left the cliffs and entered an intermittently forested area, narrowing and becoming harder to follow. I suddenly realized that I'd left my extra batteries in my drop bag back in Ouray. Bummer! I figured I was still at least four hours from my next batteries at the Grouse Gulch aid station. I doubted my AA batteries would last that long. I might wait for Dad to catch up, but could do that at any point, so I decided to continue and try to use my flashlight as little as possible. It was very dark, and the moon would not rise at all that night, being new. I found that where the trail cut through an open area, if I used my peripheral vision I could just sense enough of a ghostly presence to stay on the straight sections by starlight alone.
I passed a several other runners, spotting them first in the distance by their flashlights waving around, but the rest of the time I was alone, which was somehow very exhilarating. Off in the distance I spotted another light, which turned out to be the Engineer Pass aid station (which was far below Engineer Pass). This was a minimal aid station, consisting of two people, a tent, a backpacking stove, and a small flashlight lantern. While I drank the soup they prepared we discussed the progress of the race. They told me that John Cappis had dropped out. I mentioned that Charlie Thorn was out also. "No he isn't", they said. "But I saw him at Ouray!" "Well, someone claiming to be Charlie Thorn came through here about 45 minutes ago!" I never did figure out how Charlie managed this, since I didn't see him at the next aid station, but he didn't pass me going back either!
Beyond the aid station, the trail disappeared in the open meadows above timberline. The route was very well marked with reflecting tape on 3" square flags of aluminum, so a short scan with the flashlight would quickly pick up the next flag at distances up to several hundred feet. Just locate the next flag, and start walking toward it in the dark. Way off in the distance I could see a blinking red light that I assumed was the top of Engineer Pass. Jupiter was the brightest point in the sky, although it would soon set. Here over 12,000', the Milky Way was a bright arch across the heavens. Since I wasn't using the flashlight and couldn't see the ground anyway, there was no particular reason to look down, so I hiked along with my neck craned back, staring at the sky, trying to pick out familiar constellations, counting the shooting stars. It was beautiful!
The meadow steepened and the climb left me more out of breath. In the basin below me I could see three, now four flashlights of those following. A last steep pitch and I was on top of Engineer Pass (53.9 miles, 12,900'). Picking up the 4WD road, I started down the other side. I could run this with constant use of my flashlight, but the Grouse Gulch aid station was still almost 6 miles off, and my flashlight was already getting dim from my intermittent use. Ahead and below me I occasionally thought I saw glimpses of flashlights, but they always disappeared when I looked where they had been. Scorpio now hung low in the sky ahead of me, it's long tail curling around the Milky Way. My feet were really starting to hurt and my quads were sore, but these sensations were curiously disconnected from my desire to move forward - acknowledged, but of no consequence. However, my stomach was becoming increasingly upset. Now THAT bothered me.
At about 1:15am I pulled into the Grouse Gulch aid station (59.4 miles, 10,800'). Everyone was sitting around a lantern. I walked around for a minute with no one noticing, and finally said "What do you have to eat?" Everyone jumped up, one person exclaiming "You're a runner? Sorry, you looked so good that we though you were crew!" I didn't feel good at all. My stomach was churning, and I had little success choking down some hot chocolate, half a banana, and a piece of a sandwich. I pulled off my shoes and peeled off the athletic tape I'd wrapped my blisters in, while Dave (who had caught a couple hours sleep in anticipation of pacing me from this point) cut strips of moleskin to wrap them back up in. After an emergency dash to the portapotty I felt a bit better. The runners who were behind me started arriving in a steady stream. As Dave and I headed out for the climb up Grouse Gulch, we passed one who turned out to be my Dad. He was surprised to see us, figuring that I'd be far ahead by this point. Now Dad would drive Dave's car over to Cunningham Gulch, where Dave would finish his 30 mile pacing leg.
Dave and I started up the steep Grouse Gulch trail. We spent the first hour or two discussing the state of magnetic fusion research in the US (Dave's side of physics) and new frontiers in metallurgical plasma processing (my side of physics). As we climbed, my stomach felt worse and worse. We passed a couple tents beside a lake before cresting a ridge and dropping 500' down into American Basin. I wondered what they thought of the steady stream of people walking by their tents all night. In American Basin we could see the sky beginning to brighten in the east, and by the time we reached the ridge below 14,048' Handies Peak we could see the surrounding mountains in the early morning light. After another emergency pit stop on this cold ridge, during which Randy Rhodes, his pacer, and Gordon Hardman (originator of the Hardrock) passed us on their way up, we tackled the final pitch to the top (63.7 miles). Ordinarily this would have been no big deal, but I was TIRED. Dave filled our names into the register on the summit while I hunched over and dozed for what seemed like a long time, but was only 2-3 minutes.
We descended back to the saddle we'd come from, climbed a short bit up a subsidiary peak, then started cross-country down the steep, rocky face of the ridge, toward a meadow and lake below. As we descended the sun finally caught the tops of the surrounding peaks, turning them a bright orange. We continued to descend through the meadow and down the steep slope above a stream. Dave took a fall, producing a nasty gouge in his hand. Finally we reached the Cottonwood Creek jeep road, and ran (for the first time since the previous evening) the remaining 2.4 miles toward the Sherman aid station (69.6 miles, 9600').
We spent a long time in the Sherman aid station. At this lower elevation, my stomach felt better, and I was able to eat again with some pleasure. But I was oh so tired! More than anything I wanted to sleep! But I was afraid that if I did, I'd sleep for hours, and didn't want to do that. So once I'd packed all my nighttime clothes away for transport back to the Silverton, and rubbed on more sunscreen, Dave and I started out at about 8:45am.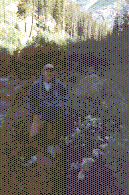 Heading up Cataract Creek. (57KB gif)
Now that it was day I was feeling increasingly better, although still very sleepy. At one point during the climb up Cataract Creek I started dozing off on my feet, stumbling a bit on the edge of the trail. Dave must have noticed, because he started giving me brain teasers to work out. The effect was remarkable - my mind cleared, my sleepiness went away, and I felt much better! We exited the forest and entered a series of high meadows. Here the trail was relatively flat, so we started running again. I discovered that it felt no worse to run than to walk. Might as well run! We skirted Cataract Lake, passed over the continental divide at 12,200', and headed down Pole Creek on the Colorado Trail.
The map showed the Pole Creek aid station (78.4 miles, 11,300') being at the confluence of the forks of Pole Creek, but in reality it was on top of a rise a hundred feet or so above and on the other side of the creek. What a cruel joke! (It was, however, exactly where the course description said.) This aid station was run by a woman who was the BLM representative to Hardrock. Everything had been packed in on horseback. Dave and I sat in the shade of a tree, watching the horses graze while we ate our soup and fruit. It was now just after noon. The leaders had cleared here at 8:30am. I was starting to feel that we were almost finished, despite knowing that we still had 22 miles and three major passes to cross. It was starting to be a lot of fun again! We declined their offer to stick around while they cooked some freshly caught trout, and hit the trail after only 15 minutes.
Heading up the green, marshy meadows of the West Fork of Pole Creek, we quickly lost the trail, as expected, but picked it up again in the willows as we started the final climb to Maggie-Pole Pass (83.6 miles, 12,500'), again on the continental divide. From here the trail descended quite steeply through beautiful fields of wildflowers into Maggie Gulch. I began to notice that the Colorado Columbine came in an astonishing variety colors. In addition to the standard white-on-sky-blue, there were some which were completely a creamy white color, others that were more purplish, some which had white spots on the tips of the blue petals. I tried keeping track of the variations, eventually counting nearly a dozen. As we continued down the grassy slopes, I felt some of my blisters pop, and discovered that the moleskin we'd put on at Grouse Gulch had slid and folded over, but it was stuck fast - pulling only removed flesh - so I wrapped it in the last of my athletic tape and tried to ignore it. Below we could see the Maggie Gulch aid station (85.0 miles, 11,900') - a small group of cars and a tent at the end of a 4WD road.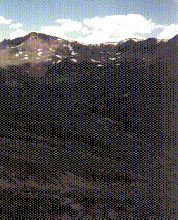 Looking down at Maggie Gulch aide station. (56KB gif)
We passed a crew member heading back up the trail to meet their runner, who appeared to be only a few minutes behind us. We were close enough to the end (only 6 hours!) that I didn't want to lose another place. We only stayed in the Maggie Gulch aid station for 10 minutes. I could smell the finish.
A couple hundred yards beyond the aid station the trail disappeared, and we were heading cross-country, following the route flags across and increasingly steep meadowy slope. Suddenly there was a burst of wings as a grouse which had made a nest directly in our path sent it's chicks scurrying and started diving at my head. I moved a few steps away and it left me alone, making a distinctive "chirrup" sound as it called it's babies back. The trail headed straight up the slope now, steep enough that we were using our hands for balance. To reach the top of the ridge required a bit of rock climbing across an exposed section of cliff.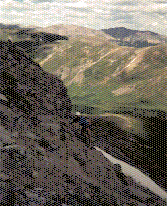 Dave Scudder climbing Buffalo Boy Pass. (86KB gif)
On top of Buffalo Boy Pass (86.7 miles, 13,000') was one of the Hardrock ham radio crew, taking pictures of the runners and baby sitting the relay station which allowed all the aid stations to communicate.
Heading straight down the other side, we passed the Buffalo Boy Mine, and started running down the very steep, rocky, 4WD road which lead to Stony and Cunningham Gulches. It hurt the quads and feet to run down this, but so what? We were near the end!
It seemed a looong way down to the Cunningham Gulch road, and felt really hot when we got there. Now we had to go up this 2WD road for a mile or so to the Cunningham aid station (91.5 miles, 10,400'), where Dave's pacer leg would end. It seemed to take forever, but pretty soon I saw my Dad walking down the road toward us, and heard my daughters yelling as we ran the last bit in. Everyone told us how good we looked, and I felt good. Sure, individual parts hurt a lot, but the whole package felt strong.
Dad would pace me over this last 10 mile leg, which I predicted should take 3-4 hours. Remembering how, at 45 miles, I'd been so much faster than him, Dad headed out a few minutes before me to get a head start. Now, twice as far into the race, I worried whether I'd be able to keep up with him. I only hung around for 10 minutes, drinking my soup, eating a turkey sandwich, and preventing my daughters from begging cookies from the aid station workers. Randy Rhodes had left this station an hour before, putting him out of reach. The next runner (Joanne Urioste, at that point the lead woman) had left the previous aid station 45 minutes behind us, so I didn't expect to get caught. I crossed the creek on a couple logs and started up the switchbacks that climbed straight up the canyon wall. Dad was way out ahead of me, but I was slowly gaining, and caught him just below Little Giant Saddle (94.5 miles, 13,000'), where the route headed straight up the final steep, grassy climb to the summit. The shadows were starting to lengthen (it was now about 6:30pm), and the view was spectacular, with peaks and ridges as far as the eye could see, bathed in the warm, late afternoon sunlight.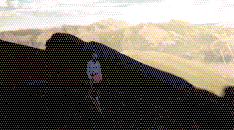 The shadows are getting longer (again!) (41KB gif)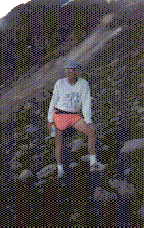 Dad near the top of Little Giant Saddle. (60KB gif)
From the saddle we headed down a primitive trail that must have once been a mining road, traversing across a steep, exposed slope covered with columbine, above a basin with a lake and the Little Giant Mine at the bottom. Reaching the lake and mine, we got onto another rough, rocky, steep 4WD road that lead down, down, down to Arrastra Gulch. Here we really started to stretch it out running downhill. Quite uncomfortable, but that didn't matter anymore. It was tough to keep up with Dad. We reached the bottom of the canyon, crossed Arrastra Creek, and headed out on the final two mile trail along a bench above the south bank of the Animas River. The pace we were setting was wearing me out, but I really wanted to beat 38 hours, and finish before dark. The minutes seemed to fly by like seconds - this final stretch was a lot longer than I had expected, making muddy detours around beaver ponds. I expected to see the finish at the Kendall Mountain Ski Hut any second now... for 5, 10, 15 minutes. Just as we hit 38 hours and I decided to slow down a little, we passed a woman with a camera who was obviously waiting for another runner. How close behind us were they? We maintained our pace, climbed a low ridge, and then burst out of the forest and into the open, with the finish line 200 yards in front of us. My daughters were jumping up and down, and running out to meet us. People were coming out of the ski hut to see another finisher. Dad and I broke the tape they held up for us, and could finally stop.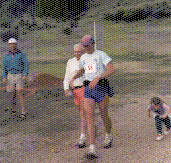 The finish! (76KB gif)
I had expected this to be an emotional moment, but I'd used up all my emotion over the previous 38 hours and 20 minutes. I was greatly pleased to have the congratulations of all present, but was just tired and somewhat amazed that it was really over.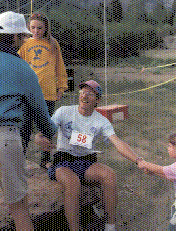 Congratulations from the RD. Two of my daughters stand (or hang from my arm) nearby. (111KB gif)
Randy had finished only 16 minutes before. 23 minutes after me came the first woman, but it turned out to be Margaret Smith, who had run an tremendous final leg.
I hobbled around for a while, caught a shower in town, and Rebecca put me to bed in my sleeping bag back in the campground. I awoke several times that night, and each time was amazed to think that there were still runners out there, enduring their second night on the trail, rushing to beat the 48 hour cutoff.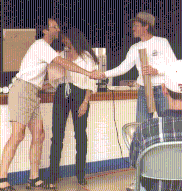 Getting my award from RDs Dale Garland and Kris Maxfield. (47KB gif)
So... Hardrock was difficult, extremely well run by the wonderful Hardrock volunteers, and a real blast to have participated in. What next? Isn't it obvious? The day after we got home, I mailed in my application for the Wasatch Front 100!

---